"Gracie Magoo, what will we do with you?" I find myself thinking this, a lot.

It's possible that Sam was exactly the same at her age and that I have blocked it all out, but I don't think so. Gracie is more stubborn than me and has a temper that's a little frightening. Have I mentioned that she screams, constantly?

I'm hoping and praying that as she gets more words she'll mellow out. At the moment, "Mommy", "No", "thank you", "this", "Ooh Aw, Ooh Aw" (from Lauri Burkner's River song) and "Happy, happy, happy" aren't enough to get her point across. The "Happy, happy, happy" is new and actually pretty funny. She walks around repeating it and every fourth time she screams. Guess she doesn't really know what "happy" means....

I love her to pieces but sometimes I feel a little guilty because she pushes me right to the edge of insanity and I wonder if she knows. Who's making who crazy? Who's making who so unhappy?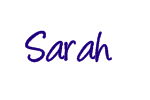 PS: Ye Haw! Spell check is working!!!!